Studio Member since 2010

Benjamin was born in 1982 in Brooklyn and moved to Chicago as young boy. Ben is proficient with keeping track of the studio calendar and on top of all important dates.  On top of his personal practice, Ben leads the studio's circle critique programming called Art Talk and is an active member of volunteer led comics group.
"I work hard and pay attention. I have to color all the things around me. I have many options in art. I think my artwork is cool because it uses design and characters from classic television.  I work together with my friends, like Dave! My art reminds me of good times and positive thinking. I see the whole world and different kinds of people. People see my hard work and know what I painted. I am my favorite artist because I'm important and I love my artwork. I'm the best artist in the world ever!"
With his outstanding memory and attention to detail, Benjamin's work reveals to the viewer every last intimacy of the portrayed moment. Rarely employing preparation, his work expands from a single starting point across the surface of the canvas as brightly colored images take shape with incredible accuracy. From renditions of The Last Supper to nostalgic scenes of his childhood in Brooklyn, those who experience Benjamin's work will be given the full story with nothing forgotten.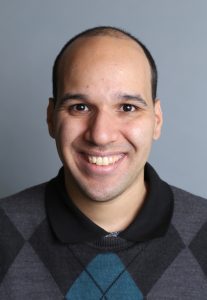 Andrew Edlin Gallery, New York, New York 2017
January Artist of the Month